Managed WordPress Hosting Guide
Managed WordPress hosting guide for webmasters who do not won't to get in to hassles of managing their hosting themselves.
Managed WordPress hosting takes the major burden off your shoulders and you can concentrate on your business affairs only. Due to the increasing popularity and increased usage of the WordPress platform several web hosts have started offering managed WordPress hosting services to their clients. To cater for the needs of their customers they have employed several WordPress technicians who possess extensive and specialized knowledge about WordPress. So they are in a better position to solve your WP related issues.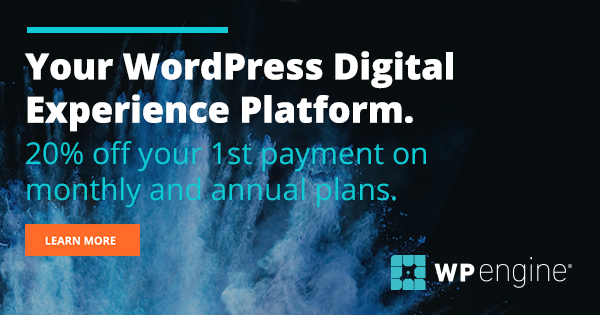 What is Managed WordPress Hosting?
As the name implies managed WordPress hosting is a specialized form of WP hosting that is managed by a team of WordPress professionals employed by your managed WordPress hosting company. This service relieves you from several tasks of managing your hosting and looking after your WP site yourself.
In managed WP hosting all the technical aspects of WordPress CMS are taken care by WP experts and you are free to concentrate on developing content for your blog/website or do other important tasks of managing and marketing of your online business.
Before deciding to buy managed WordPress hosting let us see some of the pros and cons of it, so that you can make better hosting decision.
Pros of Managed WordPress Hosting
Of course you need to know the advantages you will get by opting for managed WordPress hosting, as it may boost your confidence level. So let us see some of the pros of managed WordPress hosting:
1. Excellent Professional Support: It is a fact that no online business can succeed without support of experts. Your web host will provide you with priority support through chat/e-mail/telephone whenever you require it. Since your WordPress site is technically managed so you always have access to the person dedicted to you. This is ne of the top advantage of managed WordPress hosting.
2. No Downtime: To run an online business successfully your site needs to be up and running 24/7/365, so your managed WordPress host guarantee you no down time at all. This is because the top web hosts use CDN and cloud servers to ensure your website is always accessible to your visitors. This helps you to remain tension free as your online business website will be always open.
3. Fastest Load Time: Do you know that 79% of online shoppers avoid buying from websites that load very slow. In managed WordPress hosting you get blazing super speed that results in faster load time. The site visitors do not have to wait till the page fully loads. In best managed WP hosting the web hosts use specialized servers that are meant for WP sites. In addition to this they use special caching scripts and allow more bandwidth to your website. That is why they block all those custom plugins that can slow down your WP website.
4. Website Security: Your business website interacts with your customers so they may share their personnel details, credit card information etc. If it is not secure then people may not like to buy from you. Most of the managed WordPress hosting packages come with free SSL certificates. In addition to this managed WordPress hosts also ensure installation of proper security plugins to keep intruders, hackers and spammers away from your web site.
5. Regular Updates: WordPress CMS, its themes and plugins etc. are frequently updated by the developers. If you start updating these things yourself, it will consume lot of your time and efforts. Your managed WordPress hosting package includes regular automatic updates. Remember outdated scripts and plugins on your site can create problems for you and this feature should be considered as a blessing.
6. Website Builder Tool: Most of the managed WordPress hosting offer easy website builder tools with the help of which you can create a stunning professional website easily without any advanced web designing knowledge. Managed WP hosts also offer free themes and templates in different niches to help you showcase your online website effectively.
7. Regular Daily Backups: Nothing can be more troublesome that you lose your site and don't have any backups to restore it. In normal web hosting you have to backup your data yourself for emergency needs but managed WordPress hosting offers automatic regular daily backups. So whenever you need it (even for migration to other web host) you can get the latest copy of your WordPress site. In most of the normal hosting getting backups of your web site is a paid task that may cost some extra bucks to you.
8. Developer Tools: The best managed WP hosts offer version control and staging area for your website. You can test run your website in real before offering it to your actual site visitors. So it can be a good idea to see the website in real time before it reaches to others.

There are number of other pros of managed WordPress hosting but these are the few important ones that takes away major burden of hosting maintenance off your shoulders. As a client of some reputed managed WordPress host you are treated as VIP webmaster. And of course you deserve it because you are paying the web host lot of extra money as compared to shared web hosting and similar types.
Having said enough about the pros of managed WordPress hosting let us take a look at some of the important cons of managed WordPress hosting in the preceding paragraphs.
Cons of Managed WordPress Hosting
Where there are advantages of a thing then you also have to experience some disadvantages to. In this section we will discuss some cons of managed WordPress hosting for your knowledge and understanding, so that you can make better web hosting decision.
1. Limitations on Web Site: Since it is WP hosting that to managed, so you are limited to run only WordPress sites/blogs on your hosting. This is because the server architecture of the WP hosts is such that it supports only WP scripts and software. So even if you are allowed to upload more than one website, you are limited to use only WordPress. No more html or asp websites for you.
This can't be a serious disadvantage of managed WordPress hosting as you are desirous of hosting your WordPress site only.
2. Limitations on Plugin Use: All managed WordPress hosts impose some restrictions on using certain plugins. The main plea they take is that certain plugins may make your website slow that is why they block activation of certain plugins.
Some of the plugins they disallow are common caching plugin, site speed, backups plugin etc. They are justified in it because when a managed WordPress host guarantees you of blazing speed and regular backup then why you need to use your own plugins those disturb their servers.
If at all they allow you to use certain plugin then there is a list of allowed plugins that are compatible with their server structure and scripts.
3. Price Comparison: Managed WordPress hosting is considered to be bit higher in price as compared to shared hosting and other similar types. Of course it has to be because most of the technical tasks are done on your behalf by a team of expert WP professionals.
Consider the salaries and expenditures if you employ an in-house WordPress developer to manage the technical aspects of your website. Compare the cost with the managed WordPress hosting package you opted for, I am sure it will be much lower and hassle free for you.
4. Lesser Control on Website: You are willing of getting managed WordPress hosting because you want to concentrate on other tasks of maintaining your online business. So I don't think so you want to control the technical aspects of web hosting and site maintenance. Well this con or disadvantage of managed WordPress hosting is not considered seriously by most of the online WP site owners.
It is a good idea to concentrate your efforts on marketing and SEO of your website than to involve yourself in tech aspects of webhosting and site maintenance.
These were some of the disadvantages or cons of managed WordPress hosting that were in my mind. If you can think of more and like to share them with others for their knowledge then simply drop me a line through e-mail and I will add it in this guide.
For Whom Managed WordPress Hosting is Suitable
This section will guide you whether managed WordPress hosting is suitable for you or you fall in to some other category of webmasters who can be satisfied with other types of web hosting.
1. Busy Online Marketers: If you are a serious online business then you must be busy in number of other online tasks those require more work and attention. It is a fact that managing your WordPress hosting takes a large chunk of your time. So if you are a busy cyberpreneur then don't waste time on technical aspects of web hosting that can be taken care of in a much better and professional way by WP hosting experts.
2. Non-Tech Savvy Persons: It is not necessary that a common online businessman should also be expert in technical aspects of webhosting. So if you are one of them then managed WordPress hosting is the best choice for you. Normal shared hosting also require some know how of web hosting cpanel and WP hosting requires more knowledge regarding the script, plugin, WP CMS, widgets etc. So it is advisable that non-tech persons shouldn't waste their time in learning the WP tech.
Though there is no harm in increasing your knowledge and you can learn WordPress easily but it will require lot of time and effort in doing so.
3. Money Savers: As already mentioned, if you hire an in-house WordPress site manager he may demand higher salary as compared to your managed WordPress hosting package. Carryout a survey, talk around with WP professionals and you will have a better idea whether you should hire an in-house WP professional or get a better managed WordPress hosting package.
If you fall in any of the above mentioned three categories then you can say that this type of hosting is suitable for you. Otherwise you may opt for VPS hosting or other types of web hosting that suits your requirements and budget.
FAQs About Managed WordPress Hosting
In this section of the guide we will talk about some of the frequently asked questions by the people and clear your doubts to make better hosting decisions.
Qs 1. Why managed WordPress hosting is expensive than normal hosting?
Ans 1. As you know that your hosting is managed by WP professional that incur extra charges to the host, so that is why it may look bit expensive as compared to other hosting types. In addition to this better server resources are offered to you, the cost of which may be higher than normal hosting.
Qs 2. Can you change the web host easily?
Ans 2. Of course YES, if you are not satisfied with your managed WordPress host you can switch to another one without any downtime. Most of the good hosts also offer 30, 60 or 90 days money back guarantee if you are not fully satisfied with their services.
Qs 3. Do you need to buy domain name from the same host?
Ans 3. No, not necessary, if you already own a domain name then simply configuring your DNS will point the domain to your managed WordPress hosting servers and you can use it after it fully propagates. However most of the WordPress hosts offer free or discounted domain names to their customers and you may use this offer and enjoy great discount if you wish so.
If you have gone through the whole guide then most of your questions are answered. Even after that if you feel that you want to know more or about some particular aspect of managed WordPress hosting then you are welcome to drop us a line and we will promptly reply you with details. Good luck in your managed WordPress hosting.
Final Word
Whatever help and services your web host promises to provide you, remember one thing that it is YOUR website and only you are in love with it, so you should not solely depend on the WordPress hosting provider and learn to manage and maintain your website yourself.
Share Managed WordPress Hosting